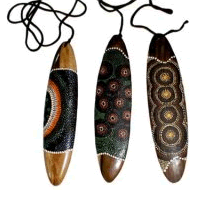 De klank van dit instrument wordt gevormt door het houten plankje snel te laten rondbewegen d.m.v. een touw. Hierdoor wordt de lucht erom heen in trilling gebracht en ontstaat een zoemend geluid. Bullroarers vinden hun oorsprong ver terug in de geschiedenis van de mensheid, de eerste bullroarers dateren uit het Laat-Paleolithicum en zijn van been gemaakt. Bij de 'primitieve' volken uit de oudheid hielden de draaiende lichaamsbewegingen, die tot extase voeren, verband met riten en culten. De bullroarer is een van de meest geheimzinnige en heilige instrumenten dat bestaat en het geluid brengt zelfs nu nog bij de meest moderne persoon een gevoel van onbehagen mee. Dit komt ongetwijfeld doordat bepaalde oergeluiden diep inwerken in ons biologische wezen, het laat geheimzinnige stemmen van geesten en monsters horen, die de wilde beesten afschrikken. De Noordamerikaanse sjamanen gebruiken de bullroarer bij hun magische rituelen om het weer te beinvloeden. Volgens de Aboriginals uit Australie zijn bullroarers 'plankjes van de geesten' waarmee men de stemmen van de voorouders kan horen. In de Romeinse oudheid gebruikte men de bullroarer voor amoureuze betoveringen en de 'rhombus' van de Latijnen kwam waarschijnlijk voor in ceremonieen gewijd aan de godheden Bacchus en Cybele. Elke bullroarer heeft een andere klank, deze is afhankelijk van het materiaal, de vorm, de rotatiesnelheid, de hoek ten opzichte van de grond en de afmeting. De meeste bullroarers zijn van hout en schors gemaakt en in ruitvorm uitgesneden, soms gebruikt men ook wel een bot of een hoorn of soms zelfs een veer. Wordt soms ook "bush telephone" genoemd.
Wikipedia (NL):
Een snorrebot, hor, bromhout, snorhout, zoemhout of zoemsteen (ook bekend onder de namen bullroarer, rhombus, turndun of Bora-Bora) is een aerofoon muziekinstrument dat sinds de oudheid al gebruikt wordt. Een snorrebot of snorhout bestaat uit een dun plaatje van hout of bot dat aan een koord rondgeslingerd wordt. Door luchtwervelingen gaat het plaatje om zijn as tollen waarbij het een zoemend of snorrend geluid voortbrengt. Hiermee is ook de naamgeving verklaard. De toonhoogte varieert met de snelheid waarmee het snorrebot wordt rondgeslingerd. Snorrebotten en snorhouten werden vooral als ritueel instrument ingezet.
Wikipedia (ENG):
The bullroarer,[1] rhombus, or turndun, is an ancient ritual musical instrument and a device historically used for communicating over great distances. It dates to the Paleolithic period, being found in Ukraine dating from 18,000 BC. Anthropologist Michael Boyd, a bullroarer expert, documents a number found in Europe, Asia, the Indian sub-continent, Africa, the Americas, and Australia.[2] In ancient Greece it was a sacred instrument used in the Dionysian Mysteries and is still used in rituals worldwide.[3] Along with the didgeridoo, it was a prominent musical technology among the Australian Aborigines, used in ceremonies across the continent.