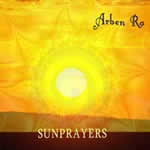 "Sunprayers"
Arben Ra
2010

Schamanic songs and intuitive compositions with Tuvan overtone- and throat singing. Music that grew from ceremonies and prayers to songs and melodies. Songs that invite you to be aware of your inner beauty and inner strength.

"Quantum Harmonics"
Nestor Kornblum
2010

The music has been intentionally created by Nestor to provoke states of deep relaxation and meditation. It can be used in background music during healing sessions to empower and enhance the healing process, or for pure listening pleasure.
Guests: Michele Averard, Geshe Lobsang Wangyal, J. Thupten & T. Dhondup
"Nad Sundaram - Beautiful Sound"
Michèle Averard, Nestor Kornblum, Carlos Pons and guests
2006

This title comes from "Nada" which in Sanskrit means Universal or Sacred Sound, and "Sundara" which means beautiful. This CD weaves together ancient and sacred elements and instruments from many cultures, with modern acoustic and electronic beats. The intention is to offer the listener a truly inspiring, Sacred Music experience, one that is also enjoyable, healing, relaxing and refreshing. It is a unique recording in that it blends vocal harmonics (overtones) with the instruments in original ways. The music can be used to enhance processes in workshops and healing sessions, or simply to enrich one's day to day experience of life. Each piece has been created with clear intention and minute attention to detail. This CD celebrates all that is beautiful in life: love, peace, harmony, compassion, joy and even a hint of sadness…which highlights this beauty and helps us to appreciate it more profoundly.
Each of the 7 tracks on this CD corresponds and resonates in one or more of the 7 main energy centres or "Chakras" located along the spine in the areas of the principal glands of the body. The music can thus be used to harmonise, balance and enhance the free-flow of energy in these centres.
Guests: Oscar Jareño, Lynn Dobson, Gayle Groovin, Jose Manuel Diaz, Ed & Deb Shapiro (Swami Brahmananda and Deva Shakti), Naomi Naides Averard, Jaume Guerra, Francisco Soler,
Sonsoles Hernandez
Instruments: Sarod, Tampura, Sitar, Flute, Voice, Overtone Chant (vocal harmonics) - Styles: Western, Tibetan "Deep Voice" and Tuvan "Kargyraa", Flamenco Guitar, Violin, Cello, Koto, Djembe, Tabla, Udu, Didgeridoo, Monochord, Pandero (Frame Drum), Bass, Electronic beats and sampled sounds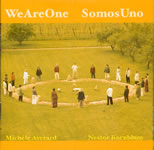 "We Are One - Somos Uno" - Nestor Kornblum and Michêle Averard
2004

A collection of traditional and original chants and mantras which Michêle Averard and Nestor Kornblum use in their work with Healing and Sacred Sound. Michêle and Nestor sing overtones/harmonics and employ a variety of sacred and indigenous instruments. Their intention throughout is to remember and invoke the power of the circles where human beings have always sung in harmony and unity. This album is dedicated to the unity of all consciousness, to circles and to Sound. We are one.

"Sounding the Subtle Bodies" - Nestor Kornblum and Michêle Averard
2004

This CD is designed as a tool for self-healing. It incorporates vocal sounds, overtones and instruments specifically chosen for their vibratory resonance in each of the body's energy centres (chakras), and their corresponding glands and organs. It may be used for healing, balancing, cleaning and harmonising the physical and subtle bodies. This music has been intentionally created to enhance and support any healing modality. The CD includes Toning the Chakras with vowels sounds, a powerful way to cleanse, balance and heal the energy centres. The listener is invited to intone along with Michêle.
1
2
3
4
5
6
7
8
9
10
11
12
13
14
15
16
17
18

Muladhara
Svadhistana
Manipura
Anahata
Vishuddha
Ajna
Sahasrara
Root
Sacral
Solar Plexis
Heart
Throat
Third Eye
Crown
Heart Return to AH
Root Return to UGH
Earth Sound Meditation
Cosmic Sound Meditation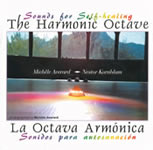 "The Harmonic Octave" - Nestor Kornblum and Michêle Averard
2000 - dubbel CD

Deze dubbel-CD is speciaal ontworpen als instrument voor healing, balancing, relaxatie en regeneratie. Iedere compositie is specifiek opgenomen om met de chakras, de aura en het fysieke lichaam te resoneren.
"Harmonic Encounters - The Enchantment" - Nestor Kornblum and Michêle Averard
2001

Songs die ze tijdens hun concerten zowat overal ter wereld hebben gebracht, zijn in de studio overgedaan en zijn op deze CD terug te vinden. Zoals altijd, een bron van healing, maar tevens zeer aangenaam om naar te luisteren.
"Journey Through the Chakras" - Nestor Kornblum and Michêle Averard
2002

Op deze CD werken Nestor Kornblum en Michêle Averard samen met Arden Wilken. Zij nemen je mee op reis doorheen de 7 belangrijkste chakras om ze je eigen unieke evenwicht helpen terug te vinden.
"Harmonic Encounters" - Nestor Kornblum and Michêle Averard
1999

Hun eerste CD. Deze CD bevat zes eigen songs met als afsluiter een 10 minuten durende meditatie. Enkel acoustische instrumenten en de wonderbaarlijke menselijke stem.
NOG 2 STUKS VOORRADIG!!
"Best Live" - Huun-Huur-Tu

No studio recording can compare to the experience of a HUUN-HUUR-TU concert - as countless visitors from all over the world would testify who have experienced one or more of their concerts. Therefore, the idea for a live recording has been in the air for quite a while. Various concerts were recorded but none met the artists' expectations until finally in April 2001 everything came together – a place where the musicians felt at home, where they played and sang with just the right inspiration, with one of Moscow's best recording engineers and ...spring in the air. The right time for a band that is able to electrify the audience like no other.
1
2
3
4
5
6
7
8
9
10

Ancestors/Prayer
Oske Cherde
Barlyk River
Chiraa-Khoo
Fantasy On The Igil
Eerbek-Aksy
Kongurei
Ching Söörtukchülerining Yryzy/Song Of The Caravan Drivers
Borbanngadyr
Ezir-Kara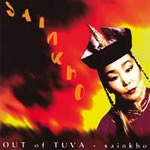 "Out of Tuva" - Sainkho

Sainkho is a stunning vocalist who hails from the Republic of Tuva (ex-USSR, near the Mongolian border). She was born in a family of nomads and has studied cult music of the lamaistic and shamanistic traditions around Siberia.
This album depicts her musical journey up to 1993, and comprises recordings made in Tuva and Moscow between 86 and 89 (including ritual music "disguised" - as it was forbidden at the time in the USSR - under strange arrangements for large orchestra), as well as her latest collaborations with producers Hector Zazou (Polyphonies Corses, Sahara Blue) and Vincent Kenis (Zap Mama).
"Harmonic Meetings" 2 CD
David Hykes & the Harmonic Choir
This beautiful double CD is the fruit of a month-long music and meditation retreat recorded in Thoronet Abbey, the same space as Hearing Solar Winds, focused on musical peace from Christian, Islamic and Jewish sources.
"The text consists of a few sacred words from the Abrahamic religions with most sections involving vocalizing on vowel sounds. In this abbey, two voices sound like ten. When the harmonics focus, it sounds like ten voices more. The overall effect is one of startling majesty. It is earthy and other-wordly at the same time... I can't help but think how the world would change if five minutes of this were played on Top Forty radio several times a day." (Andrew Fischer, 1/1)
"Paraphony" - Mark C. van Tongeren

Boven-toonzingen is een techniek waarin met een stem gelijktijdig meerdere tonen worden opgewekt. Deze unieke manier van zingen daagt het gehoor en de stem uit om de subtiele dimensies en de klankkleur van geluid te onderzoeken. In centraal Azië wordt deze mannier van zingen reeds eeuwenlang beoefend door Tibetaanse monniken en diverse Turco-Mongoolse nomaden stammen. In recente decennia is het westerse publiek er nu en dan mee opgeschrikt door pioniers als Karl Heinz Stockhausen, David Hykes' Harmonic Coir en Michael Vetter. Op deze Cd laat ethno-musicoloog Mark van Tongeren horen wat hij de laatste twaalf jaar geleerd heeft op dit gebied.
Zonder gebruik te maken van effectapparatuur, nam hij op de meest vreemde plaatsen op. Een toilet werd gebruikt, maar ook een fabriekshal, de Amsterdams silo, een lege Russische woning en het Tuvaanse platteland waren opnamelocaties.
Wat onmiddellijk opvalt is de kracht die uitgaat van deze mannier van zingen. Mark van Tongeren heeft zoals gezegd geen effectapparatuur gebruikt en toch krijg je soms hele aparte reverberatie-impressies te horen. Hij zegt zelf in zijn documentatie dat iedere ruimte zijn eigen verborgen geluidsspectrum heeft, een potentiële stem noemt ie dat. Op track 2 , opgenomen in een lege Russische woonkamer, is dat gelijk goed te horen, zeer bijzonder. Track 5 t/m 8 zijn opgenomen op een toilet van de Amsterdamse Droogdok Maatschappij. Hier komt inderdaad weer een hele andere "verborgen stem" van de ruimte voorbij.
Track 9 is opgenomen in de Amsterdamse silo. Wat hier voorbij komt lijkt rechtstreeks uit een synthesizer te komen, imponerend. Hetzelfde geldt voor de opname in een fabriekshal. Voor vocalisten en akoestisch geinteresseerden is deze CD eigenlijk een must en dan zwijg ik nog van alle New Age fanaten want de CD heeft een hoog "meditatie" -gehalte.

"Obertöne + Geschichten" - Lutz Czech

Boventoonzang, stem, tanpoera, duimpiano, steeldrum, klankschalen, gongs.
"Tovertonen - Overtones" - Borg Diem Groeneveld

De cd `Tovertonen - Overtones' maakte Borg Diem Groeneveld met begeleiding
van tanpoera, sandawa en gong in de prachtige akoestiek van de Utrechtse Pieterskerk.
"Kentering" - Het Boventoontrio
In 1993 nodigde Borg Diem Groeneveld twee gevorderde boventoonzangers uit om samen een trio te vormen. Hij wilde met hen experimenteren met de meerstemmige mogelijkheden van boventoonzang. Franc en Frans zijn beide opgeleid door Borg. Franc heeft enkele jaren gezongen in Boventoonkoor Dana en Frans heeft de driejarige opleiding 'Adem, Stem en Boventonen' gevolgd. Beiden geven ook boventooncursussen. Als trio hebben zij een repertoire opgebouwd, waarin veel verschillende muzikale stijlen zijn geïntegreerd.
"OM & OM - turn by turn" - Borg Groeneveld en
Evelien Linschoten

Evelien Linschoten en Borg Diem Groeneveld (boventoon)zang, tanpoera, klankschalen en gongs. Evelien Linschoten studeerde in 1991 af als muziek- therapeut aan Middeloo te Amersfoort. Vanaf '89 volgde zij diverse boventooncursussen. Bij Borg volgde zij de opleiding Adem, Stem en Boventonen. Na verloop van tijd groeide er een vriendschap en speelden en zongen zij steeds meer samen. Dit leidde onder meer tot het geven van concerten in binnen- en buitenland. Borg Diem Groeneveld is boventoonzanger en stem- therapeut. Hij studeerde vanaf 1985 boventoonzang en improvisatie bij Michael Vetter. Hij verdiepte zich in de 'Ervaarbare Adem' van Ilse Middendorf bij Franz-Peter Menge en bij Maria Höller. In 1993 publiceerde hij 'Stem en Boventonen', een werkboek voor de stem. In 1997 maakte hij zijn eerste cd 'Tovertonen - Overtones' en in 1999 met het Boventoontrio de cd 'Kentering'.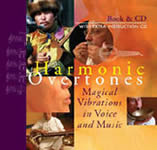 "Harmonic Overtones" - Overtone trio / Tuva Singers / Dick de Ruiter
ISBN: 90-74597-58-0 , 50 Minuten CD
Boek in CD formaat (hardcover, engelstalig) en extra aparte oefen CD

Het vierde deel alweer in de engelstalige reeks boek/CD's (ook leverbaar in het Duits en Frans overigens), met als onderwerp het bijzondere verschijnsel wat optreedt wanneer er in onze wereld geluid wordt geproduceerd. Iedere toon -in de natuur, op straat, van een muziekinstrument of in onze stem- bevat boventonen, die "mee-resoneren" met de grondtoon. Na uitleg van de basisprincipes gaat de schrijver in op de zg. harmonische boventonen, die geproduceerd worden door bijzondere muziekinstrumenten, zoals de klanschaal, de mondharp en de didgeridoo en ook door de menselijke stem, die een bijzondere harmoniserende werking kunnen hebben op onze energie. Behalve de achtergronden levert het boekje ook een compacte handleiding om zelf boventonen te (leren) zingen, waarvoor ook een extra, tweede CD wordt meegeleverd met singalong-oefeningen.
De eerste CD bevat 12 wonderschone boventoontracks, de meeste à capella, sommige solo-zang, van het boventoontrio Vincent Vrolijk, Evelien Linschoten en Henk Verschuur, alsmede ook enkele kippenvelveroorzakend mooie voorbeelden van orginele Tuva-zangers. Hier en daar met begeleiding van didgeridoo, mondharp, tamboera en klankschalen. Een unieke productie!