"Hanging Out – Magical Music from Heaven" - David Pantanjali Samson

The music on this CD is made with the tools of Love & Silence. Enjoy the Magical journey. On this album you can hear the hang, a UFO-shaped hand-steeldrum. Other instruments that have been used: voice, copper overtone flute, jew harp, surdo, spring drum, bendir, darbukka, cajon, vibratone, flexatone, caixixi, kalimba, ... .
"Nad Sundaram - Beautiful Sound"
Michèle Averard, Nestor Kornblum, Carlos Pons and guests
2006

This title comes from "Nada" which in Sanskrit means Universal or Sacred Sound, and "Sundara" which means beautiful. This CD weaves together ancient and sacred elements and instruments from many cultures, with modern acoustic and electronic beats. The intention is to offer the listener a truly inspiring, Sacred Music experience, one that is also enjoyable, healing, relaxing and refreshing. It is a unique recording in that it blends vocal harmonics (overtones) with the instruments in original ways. The music can be used to enhance processes in workshops and healing sessions, or simply to enrich one's day to day experience of life. Each piece has been created with clear intention and minute attention to detail. This CD celebrates all that is beautiful in life: love, peace, harmony, compassion, joy and even a hint of sadness…which highlights this beauty and helps us to appreciate it more profoundly.
Each of the 7 tracks on this CD corresponds and resonates in one or more of the 7 main energy centres or "Chakras" located along the spine in the areas of the principal glands of the body. The music can thus be used to harmonise, balance and enhance the free-flow of energy in these centres.
Guests: Oscar Jareño, Lynn Dobson, Gayle Groovin, Jose Manuel Diaz, Ed & Deb Shapiro (Swami Brahmananda and Deva Shakti), Naomi Naides Averard, Jaume Guerra, Francisco Soler,
Sonsoles Hernandez
Instruments: Sarod, Tampura, Sitar, Flute, Voice, Overtone Chant (vocal harmonics) - Styles: Western, Tibetan "Deep Voice" and Tuvan "Kargyraa", Flamenco Guitar, Violin, Cello, Koto, Djembe, Tabla, Udu, Didgeridoo, Monochord, Pandero (Frame Drum), Bass, Electronic beats and sampled sounds
"Gone with the wind - songs from Mongolian steppes" - Altai-Hangai

'Gone with the Wind', subtitled 'Songs of the Steppes' on the CD front cover and 'Whimsical Whoopee Mongolian Melodies' on the CD itself. Comprising 16 songs, it is a tour of traditional Mongolian music.
Altai-Hangai is a group of musicians and singers from Mongolia. Named after the Altai mountains and the Hangai steppes, large natural reserves in Central and Western Mongolia. Formed by four people from that area in 1993, they have spent much time spreading their music through Europe and the US, using traditional Mongolian instruments and forms.
"It is very difficult to describe the singing and tunes. Some are toe-tapping, some insert themselves into your head and go round and round, others just flow right over you. Some of the touches are incredible, in some songs it sounds like the animals, not just 'sounds like the animals' as a metaphore, but actually sounds like horses whinneying. Really good."
"The winds of Heaven" - Michael Ormiston
Traditional melodies and original compositions for Khoomii and overtone singing
The Winds of Heaven is Michael Ormiston's first CD dedicated to overtone singing. Hear traditional Mongolian & Tuvan melodies sung in Khöömii, accompanied by Michael's rare collection Mongolian instruments and new compositions and improvisations using overtone singing, Morin Khuur, Yatag, Tibetan Singing Bowls, gongs, Tobshuur, jaw's harps, Ethiopian end-blown flute, bowed cymbal and "simultaneous overtone singing with ney flute".

"The Winds of Heaven shift and change, your body will not live forever; your mortal body has but its brief span of life. May we, fast friends that have met, all live long and happily together!"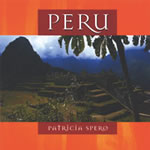 "Peru" - Patricia Spero

Reflecting the beautiful, natural multiple layers of the Peruvian Andes and its peoples' rich cultural traditions, Peru instils a sensory and moving appreciation of the region. Blending authentic Peruvian Pan Pipes and Percussion with Spanish Musical Influences culminates in a unique South American sound resonating homage to this inspiring and ancient culture. The electic soundscape lifts the spirits, invigorates the imagination and its' vitality, like the vivid colours of the region, beckons dance and movement.
"Didgeridoo – Music for Meditation" - Barramundi
With bells, bowls, gongs and chimes

Een CD met wonderschone, meditatieve muziek. Het unieke samenspel van didgeridoo, klankschalen, gongs, cymbalen, belletjes en windspel produceert een rustgevend, heilzaam geluid dat zich bij uitstek leent voor ontspanning en meditatie.
Musique transcendantale, pleine de pouvoir de cet étonnant instrument australien
Combinaison unique de sons de didgeridoo, bols chantants, gongs, cymbales, cloches et éolires parfait pour la relaxation et la méditation.

Meditative but still very powerful sounds of the Australian wonder instrument. A CD with wonderful, meditative music. The unique interplay of didgeridoo, singing bowls, gongs, cymbals, bells en windgongs produces a relaxing, wholesome sounds which is ultimately suitable for relaxation and meditation.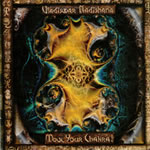 "Move your Chakra! (music for healing the body)"
Vladiswar Nadishana

Vladiswar Nadishana is a russian virtuoso multi-instrumentalist and composer from Siberia in direction of modern world fusion and ethnic jazz. He plays on more than 50 instruments of the world, including self-invented. He is laureate of the international festivals "Ustuu-Huree", "The Sayan Ring" and "New Songs of the Old Lands", and he is also the founder of the ethnofestival "Free of Karma Zone". Nadishana is the director of "Sound Microsurgery Department" - the creative music laboratory founded in Siberia and now locating in Berlin.

This CD is the one of the results of our research "music and health". When somebody plays music in a specific way, it brings healthsome influence on a concrete system of inner organs of the human body. For example kalyuka harmonises bronchi and lungs, mandola - the heart etc. The tracks are ordered so that the harmonising effect flows from head to feet.
1
2
3
4
5
6
7
8
9
10
11
12
13
14

Homus
Prepared Hordophone
Dzuddahord
Mandola
Slit Drum
Kalyuka
Ritual Overtone Flute
Frame Drum
Ritual Overtone Flute (part 2)
Prepared Beer Tins
Okarina
Darabukka
Bamboo Flute
Teapot With Water
"Best Live" - Huun-Huur-Tu

No studio recording can compare to the experience of a HUUN-HUUR-TU concert - as countless visitors from all over the world would testify who have experienced one or more of their concerts. Therefore, the idea for a live recording has been in the air for quite a while. Various concerts were recorded but none met the artists' expectations until finally in April 2001 everything came together – a place where the musicians felt at home, where they played and sang with just the right inspiration, with one of Moscow's best recording engineers and ...spring in the air. The right time for a band that is able to electrify the audience like no other.
1
2
3
4
5
6
7
8
9
10

Ancestors/Prayer
Oske Cherde
Barlyk River
Chiraa-Khoo
Fantasy On The Igil
Eerbek-Aksy
Kongurei
Ching Söörtukchülerining Yryzy/Song Of The Caravan Drivers
Borbanngadyr
Ezir-Kara
"Klothekan" - Empat Sekampung/Jochen Fassbender

Diese CD dokumentiert die Begegnung des indonesischen Gamelanensembles Empat Sekampung mit dem Klangkünstler Jochen Fassbender.

"Warum muß die Uhr pulsieren und das Blut nicht, warum?"
Empat Sekampung heißt "Vier aus einem Dorf", was ihre Empfindung ausdrücken soll, sich wie eine Familie zu fühlen. 1998 in der mitteljavanischen Stadt Solo gegründet, sind diese Gamelanmusiker gleichzeitig auch Tänzer oder Sprecher und schöpfen aus der reichen Tradition indonesischer Lyrik. Das Zusammenwirken der javanesischen Künstler mit dem Europäer Jochen Fassbender, ist so, als spielten sie seit eh und je zusammen. Es zeigt, dass die Sprache der Kunst, vor allem der Musik, universal geworden ist. Kulturen wachsen zusammen oder befruchten, beeinflussen sich - entwickeln sich gemeinsam - und behalten doch ihre originären Charakteristika.

1
2
3
4
5
6
7
8

The Man From The East
Gossip
From Top To Toe
Sunrise
Singing Air
Dance Of The Flute
Inside
Farewell
"Moon Shines at Night" - Djivan Gasparyan

Moon Shines at Night is a rich but simple collection of Middle Eastern songs performed by Djivan on the armenian duduk with two supporting musicians.
Recorded at The Church Studios, North London and live in Tokyo while supporting Jah Wobble. Features Djivan's vocals for the first time The Independent "Perfect music for an imperfect world." Mojo "This is possibly one of most beautiful records ever made." The Independent On Sunday "Since his emergence as an international star in the late Eighties, Djivan Gasparyan has become his country's musical spokesman: his instrument – the mournful duduk – has always seemed to manifest the perfect expression for Armenia's tragic history. His characteristic soft-hard tonal modulation, and the atmosphere of stillness which it establishes over the drone, makes it irresistible. And although he has now produced several similar albums, this one is still a delight."

1
2
3
4
5
6
7
8
9
10

Lovely Spring
Sayat Nova
7th December 1988
Don't Make Me Cry
You Have To Come Back To Me
Tonight
They Took My Love Away
Moon Shines At Night
Apricot Tree
Mother Of Mine